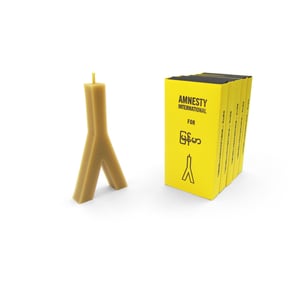 $

150.00
REN for Myanmar is a candle for Amnesty International. It was launched at the Amnesty International Hong Kong "The Lady" Charity Gala Premiere on 3rd February 2012.
Each REN candle and box is hand poured from local beeswax, hand cut, hand stamped and hand made in our studio in Yau Ma Tei. The cotton wick has been hand dyed yellow to match Amnesty International's signature colour.
We've made 88 RENs FOR MYANMAR to commemorate the "8888 Uprising" in Myanmar on 8th August 1988 demanding democracy and reform.
Proceeds go to Amnesty International Hong Kong Section Human Rights Education Charitable Trust.
Free local and International delivery : )
PRICE IN HONG KONG $